THE BACKDROP OF YOUR ATHLETIC EXPERIENCES!
We make professional-grade athletic surface graphics a reality at every level of play.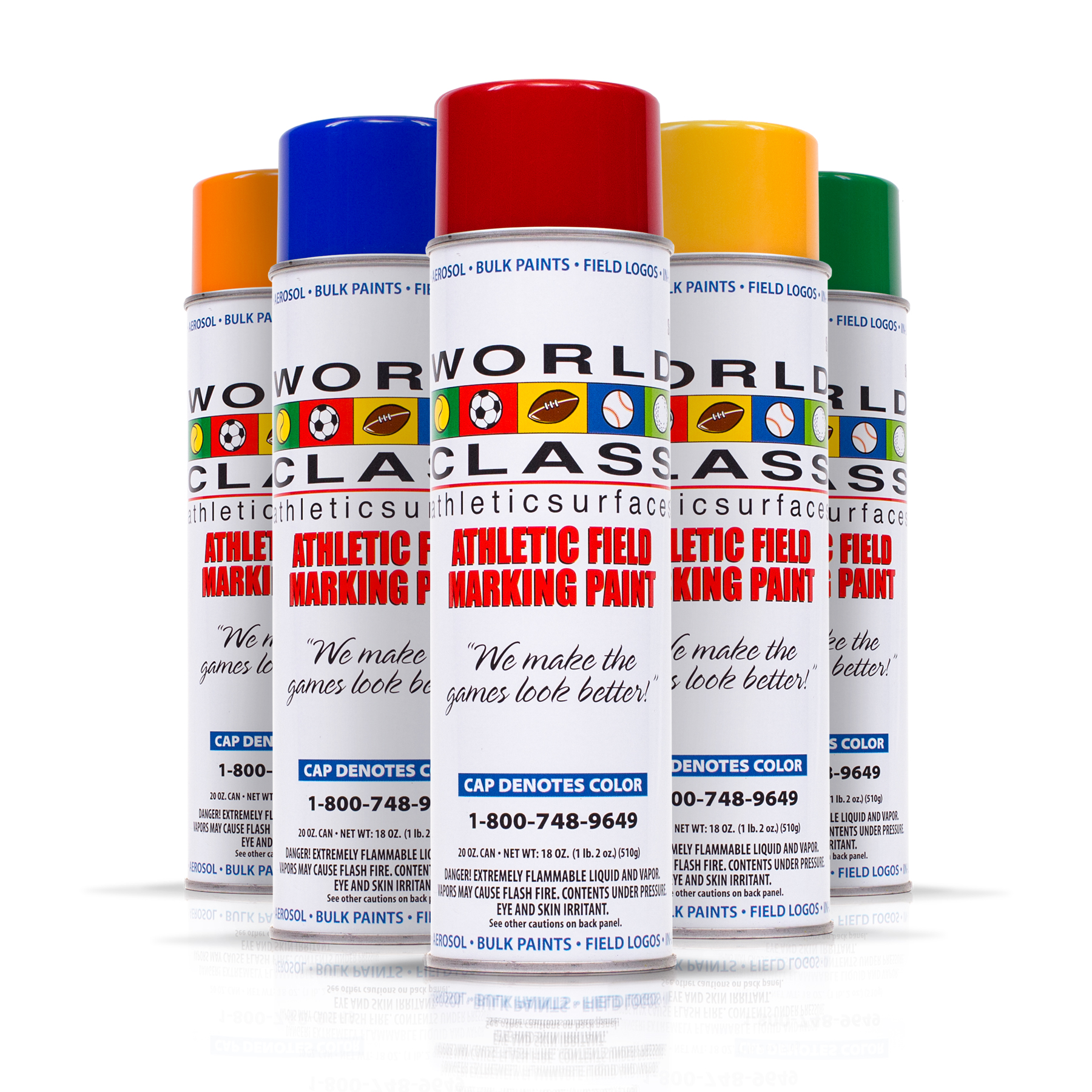 SAFE FOR PLAYERS
& THE WORLD AROUND THEM.
Sharp, vibrant field graphics should live forever in your memory, but not in the environment. Athletic surfaces get a lot of varied use across a season, requiring new graphics and repeated painting. The commitment to high-quality surface paints from World Class that don't damage your surfaces or the environment fueled development of the first natural turf paint that doesn't kill grass and leaves no footprint. We continue to focus innovation on eco-friendly, low-VOC paints that are ready for close contact with players and the Earth – keeping our world (and your gamedays) beautiful for a lifetime.
Experience
Arrive early, Work hard. That's what the World Class team does.

Industry Leaders
We've been around for 34 years, but they've been fast years because we don't slow down. As athletic surfaces evolve, World Class is there with the latest technology and service to meet the needs of modern teams.

First to the Field
We set the pace for innovation in our industry. The first turf-friendly paints that don't harm the environment, paint concentrates that reduce shipping costs, durable, easy to use stencils – that's us. We continue leading innovation that changes the field of play.

We Say Yes
We're ready and willing to help you with your athletic surface project, no matter what. We built our business on agility and resourcefulness, coming to the plate with solutions that work for any customer large or small.

We're Everywhere
We've done it all. The exceptional field graphics World Class brings to Major League Baseball and the NFL fuels the development of creating the same experience for high schools. We help you make your athletic surfaces beautiful no matter the level of play.

Focus
We focus innovation on lowering cost, helping the Earth, and maintaining your surfaces for a lifetime. We focus on service that sticks. We focus on precision stencils that last for years and are easy and simple to use by anyone. World Class Athletic Surfaces focuses on you, your field, your team – period.
COMMITMENT
ATHLETICS ARE ABOUT COMMITMENT. SO ARE WE.

Eco Friendly Paint
We were first to the market with high-quality paint that doesn't kill grass or pollute your water when it's washed away. We also reduce the carbon footprint with paint concentrates that take less energy to ship.

Environmentally-Friendly
We are now shipping paint in 275-gallon reusable tote system that decreases excess amounts of plastic buckets being thrown away. Simply empty you paint totes and we'll pick them up to reuse them while also saving space in landfills.

Innovative Mindset
We're always looking ahead, anticipating needs, improving existing products and developing new ones. We invest in the right research and development to increase quality, reduce costs for you, and go easy on the environment.

Precision Stencils
The patented stencil technology developed by World Class Athletic Surfaces ensures distortion-free, sharp graphics that are easy for anyone to apply. Our stencils are printed with clear color application instructions and last for years.

Service
Nothing takes the place of good service, and it's at the heart of everything we do. From the custom work we do for professional sports teams to the thorough approach we take with self-application graphics, our service is unparalleled.